If money was no object, what would you do to add a little creative flair to your home? Here we take a peek into the homes of the rich and famous, and look at celebrity bathrooms from a range of people, including movie stars, professional footballers, and musicians. Let us know which you would love in your home via our Facebook and Twitter pages!
For a inside look into more celebrity bathrooms, why not follow our Celebrity Bathrooms Pinterest board? We always try to keep you updated with the very latest sneak peaks into celebrity bathrooms for you to take inspiration from and, as always, we are on hand to let you know how you can recreate these trends on a budget. Make sure to call us on 0844 811 2321 to speak to our friendly team and get the best deals on the market or visit www.bathshop321.com.
Charlie Sheen's Bathroom
First up is Charlie Sheen's bathroom from his previous Mediterranean-style home in LA. The house he shared with Brooke Mueller went on the market for $3.7million in 2009, and features a stunning bathroom with a freestanding bath, his-and-hers basins, and a large glass shower enclosure.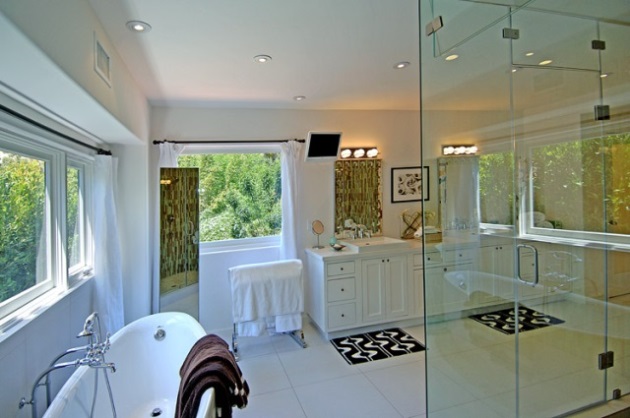 50 Cent's Bathroom
Rapper 50 Cent spared no expense with the Connecticut mansion he owned back in 2011. The 52 room home was reportedly for sale at around $10million as he looked to move on, and as you will see from the bathroom, it looks quite stunning. With plenty of space and a marble floor, you can even spot one of his customary baseball caps.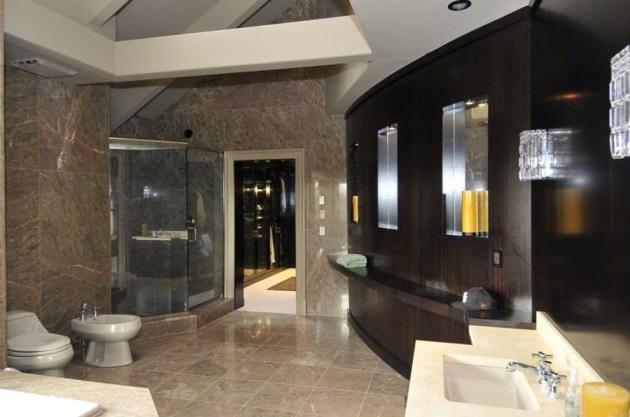 Courteney Cox's Bathroom
We love the bathroom from Courteney Cox's private retreat. It features pendant lights that are custom made, chair and ottoman upholstered in velvet, and artwork which was apparently done by Cox's farther.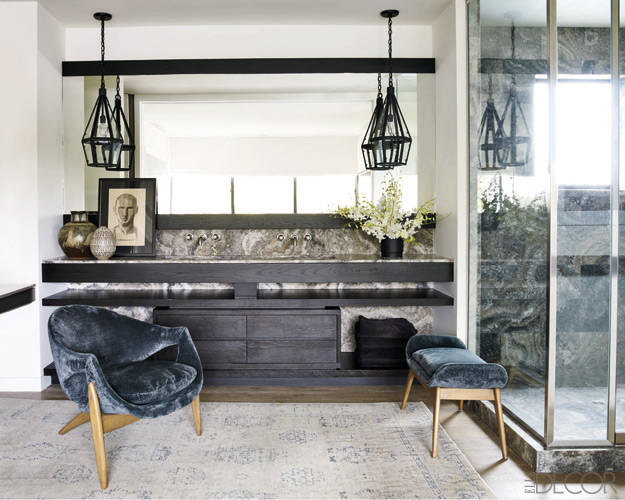 Jermaine Defoe's Bathroom
Footballer Jermaine Defoe put his £3.7million six-bedroom mansion up for sale in 2011, and invited people to have a look round. Although quite modest, Defoe's bathroom features an iconic freestanding bathtub in the middle, with two large windows and opposing mirrors to add a lot of light to the room.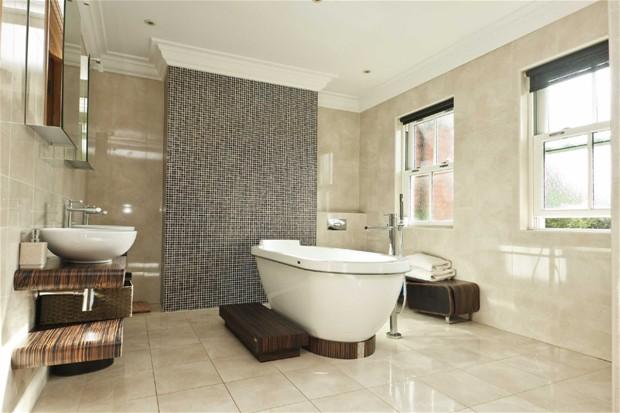 Jamie Theakston's Bathroom
Perhaps not a name you would expect to see in this list, TV and radio presenter Jamie Theakston renovated the house he bought in 2010 and put it on the market in February this year for £6.5million. The traditional bathroom features a high level toilet and stunning features. Simplistic but a modern classic.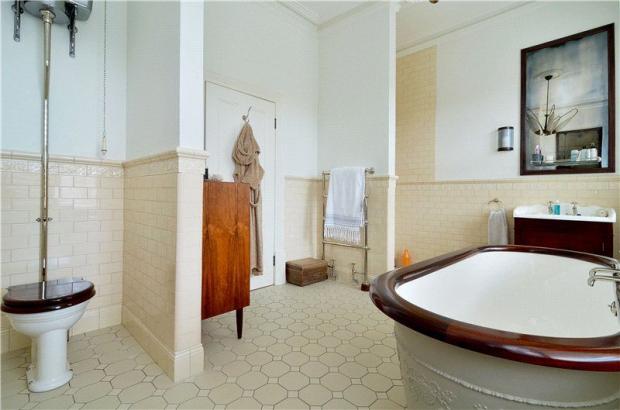 Christina Aguilera's Bathroom
Wow, what can we say about Christina Aguilera's bathroom? Set in her Beverly Hills home, the obvious focal point of the room is a giant designer rug with Aguilera's face on it. Not something you normally see in bathrooms, this one also features a fireplace, along with lots of candles and figurines.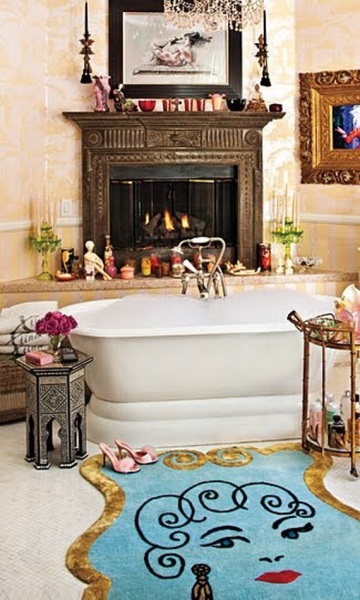 Joey Barton's Bathroom
The second footballer in our list is Joey Barton, who decided to leave his roots behind back in 2011 and put his £1.4million Newcastle home up for sale. This is perhaps the simplest of bathrooms in our celebrity list, and has a single basin, bathtub and shower enclosure.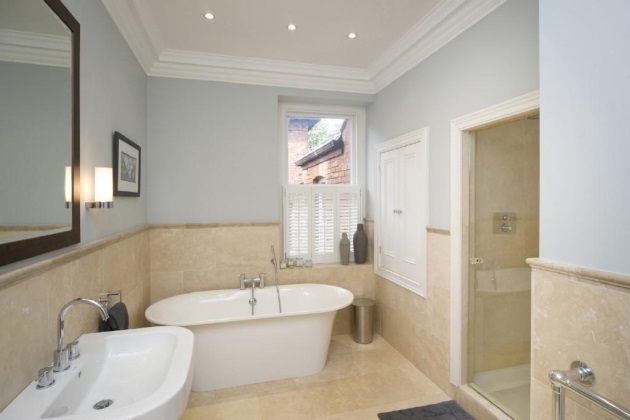 Michael Bay's Bathroom
Film director Michael Bay has a bathroom suited to a celebrity of his stature. The huge glass enclosure features a case concrete bathtub and unique simplistic shower, with fittings apparently by Boffi. A large plant and turquoise wall really add to the look and feel of this stunning bathroom.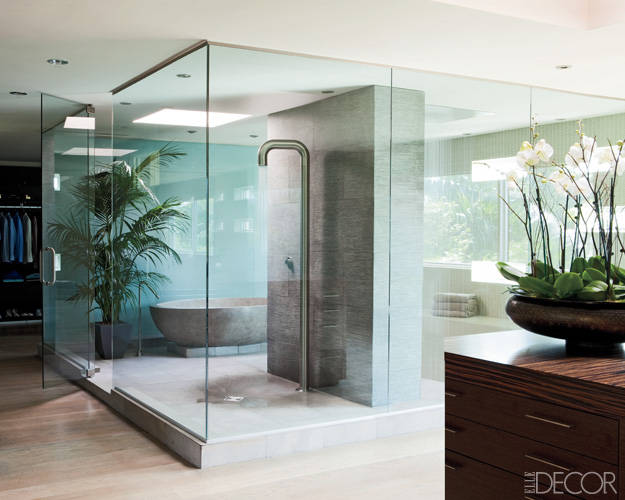 Mick and Kirk Norcross (TOWIE) Bathroom
Those familiar with the TV show 'The Only Way is Essex' might recognise this bathroom from the country home owned by Mick and Kirk Norcross. This traditional bathroom is perfectly suited to the manor house, and features all of the classic fittings you would expect in a home of this kind.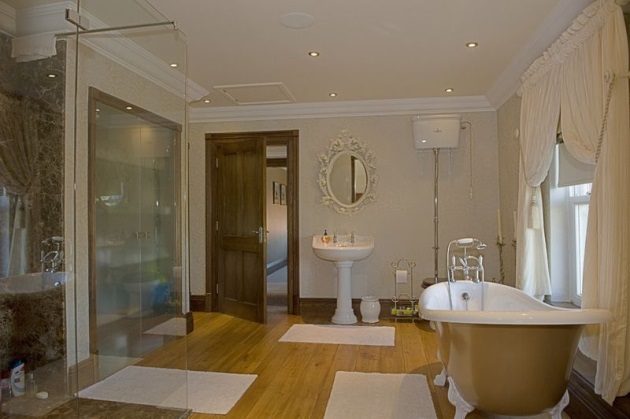 Adele's Bathroom
Adele moved into her new mansion in early 2012, featuring 10 bedrooms, 2 swimming pools, and a helicopter hanger! Although not the master bathroom, this turquoise bathroom looks fit for a long soak in the traditional tub.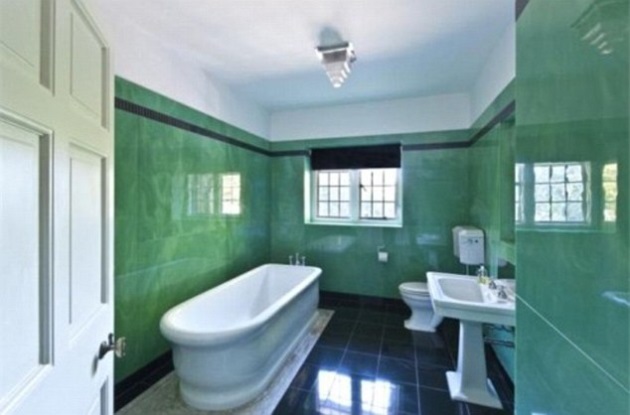 John Legend's Bathroom
Singer-songwriter John Legend had the help of designer Don Stewart for the Hollywood home he shares with Christine Teigen. This spacious modern bathroom features a walk in shower and contemporary walnut decor.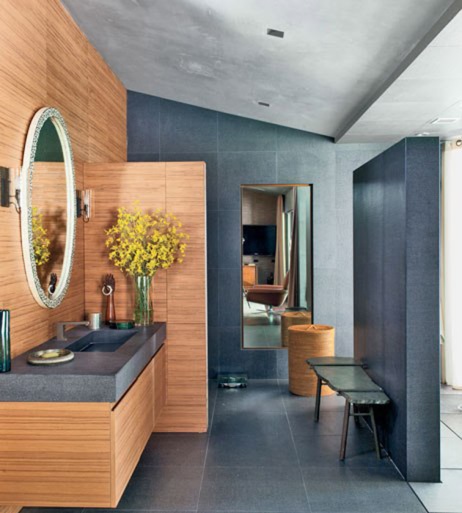 David and Victoria Beckham's Bathroom
The Beckhams are renowned for moving around, as David's football career has taken him to Spain, America, and more recently France. Their old family home in Cheshire (UK) went up for sale in 2011 for £2.2million, featuring an elegant bathroom with plenty of space. The his-and-hers vanity units are situated in the middle of this rectangular room, which sees plenty of natural light coming through.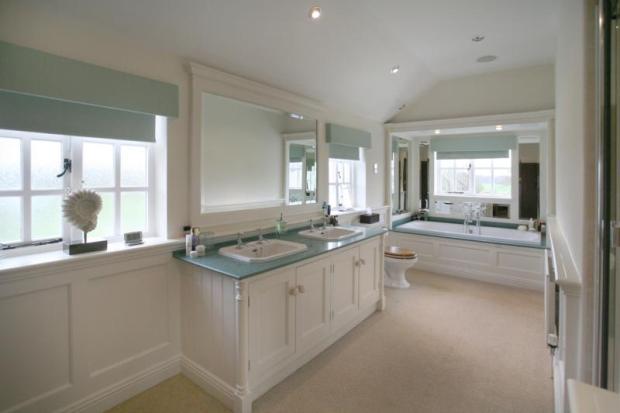 Julianne Moore's Bathroom
Julianne Moore converted the entire third floor of her townhouse to an enormous bathroom. This rectangular design features double vanity units, a modern bathtub and open fireplace.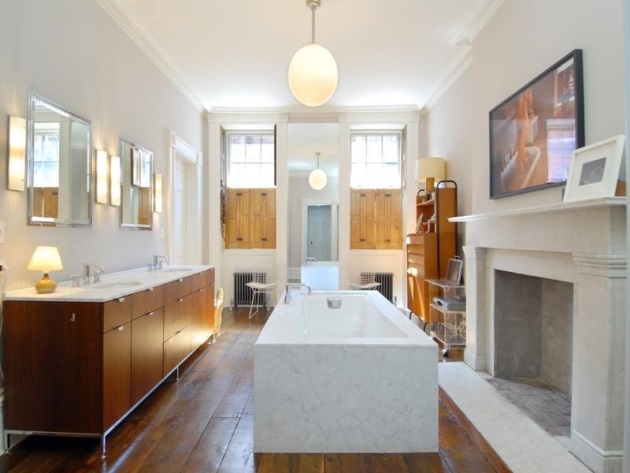 Kanye West's Bathroom
Not wanting to settle for the ordinary, Kanye West's bathroom features a huge fish tank situated at the end of the bath. The $3.3million bachelor pad was put up for sale in March 2013, and boasts stunning views of LA from the large bathroom window.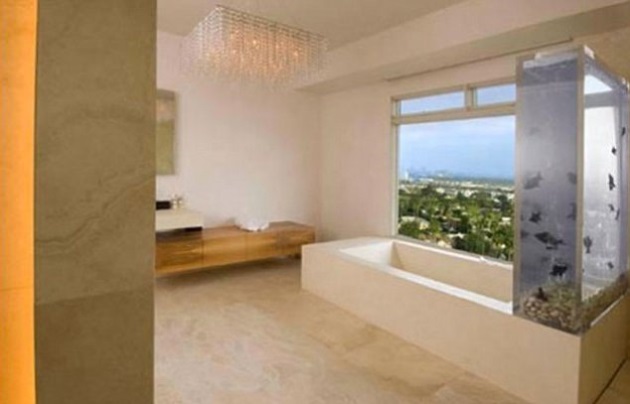 Kate Winslet's Bathroom
This all-white bathroom featured in Kate Winslet's $4.9million New York penthouse which was put up for rent in 2012. Featuring a chandelier, huge mirror and traditional taps, this bathroom looks like one you would happily spend a lot of time in.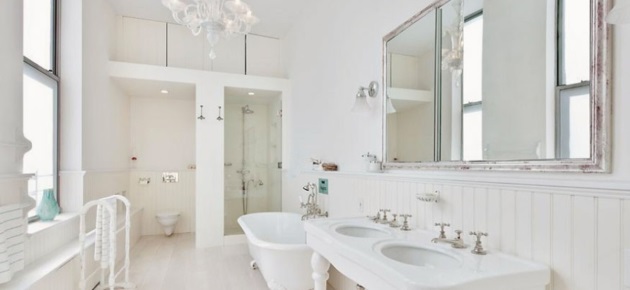 Lionel Richie's Bathroom
If you're looking for a bathroom with a bit of personality, then look no further than Lionel Richie's home. This bathroom is packed with oak furniture, a limestone fireplace and freestanding tub paneled in mahogany. It has the look and feel of a living room, but with all the classic features of a bathroom.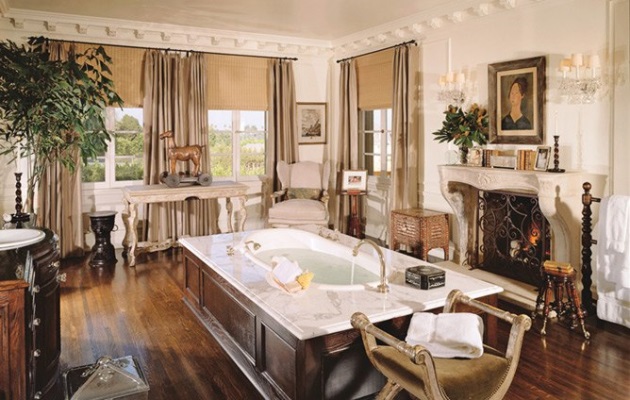 Madonna's Bathroom
Madonna's New York townhouse is one of the widest in Manhattan, and is apparently the combination of three separate houses. Her contemporary bathroom has a beautiful archway as you enter through towards the pedestal basin, featuring both a modern shower enclosure and a classic bathtub.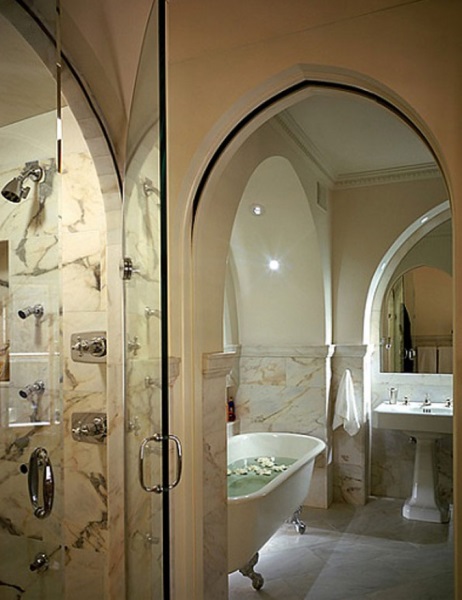 Chris Wolstenholme (Muse) Bathroom
Muse bassist Chris Wolstenholme put his hometown property on the market for a (relatively) modest £895,000 back in 2010. The home had been fully modernised during his time living there, and the bathroom really shows this off. This stunning tiled bathroom is a great example of what you can do without cluttering the area, with a gleaming towel rail seen in the foreground, and individual countertop basins against the back wall.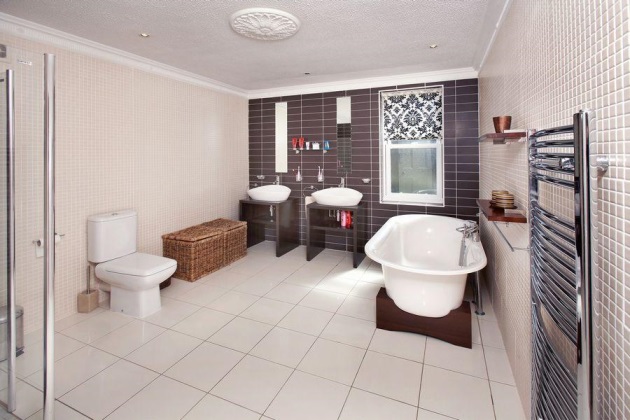 Meg Ryan's Bathroom
Actress Meg Ryan created a beautiful master bathroom in her beach house. The antique bathtub and towel bars give the room real character, and the large windows perfectly compliment the white decor.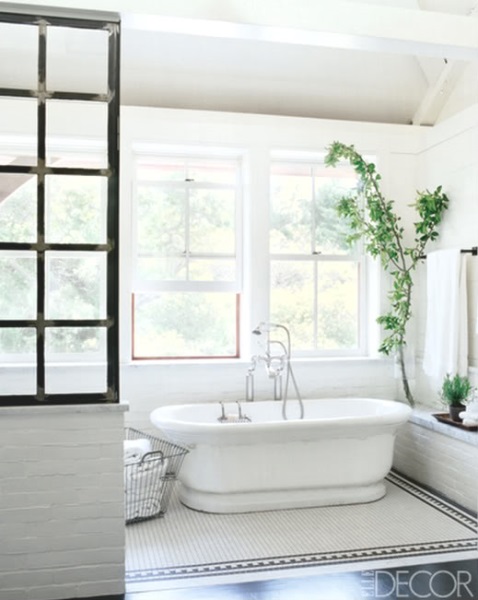 Nicolas Cage's Bathroom
It's no secret that Nicolas Cage has more than one mansion, and the bathroom of this Las Vegas property was part of a Cage renovation project a few years back. The interior of this 14,000 square-foot house is somewhat reminiscent of a cruise ship, with large curving stairways and lavish rooms. The bathroom keeps with this theme, with a central tub that you step up into, while also having plenty of space to walk around the exterior.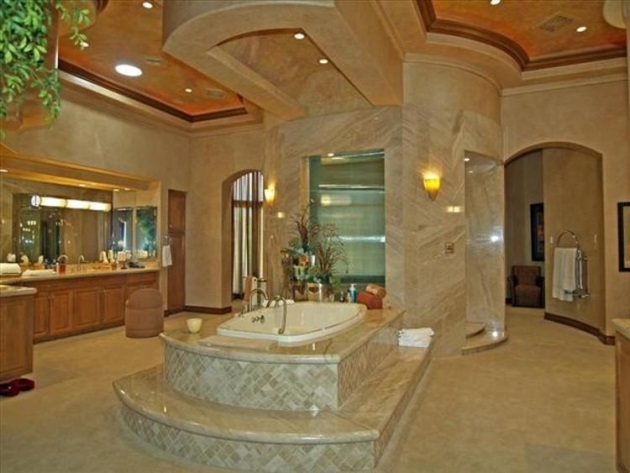 Phil Mickelson's Bathroom
Professional golfer Phil Michelson's bathroom is by far the most eccentric in our celebrity list. While the outside of the bathroom is elegantly designed, there is a huge curved glass enclosure that sits in the heart, with custom mosaics and Calcutta marble foundations. Certainly one of a kind.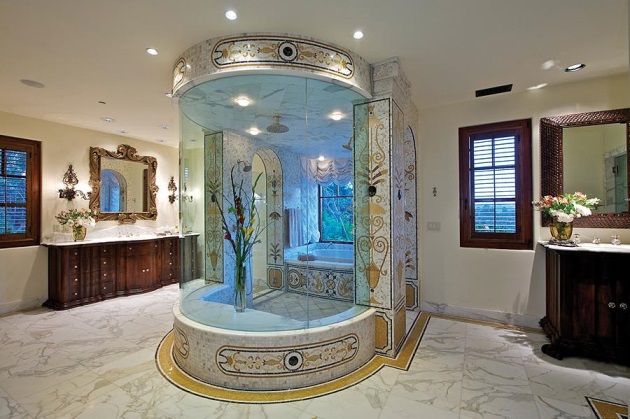 Pamela Anderson's Bathroom
Pamela Anderson's eco-friendly house worth a reported £5million was put up for sale in April 2013, which she apparently calls her "masterpiece". The bathroom in particular is a work of art, as shown from the luxury freestanding tub in the corner, and sprawling drawer unit.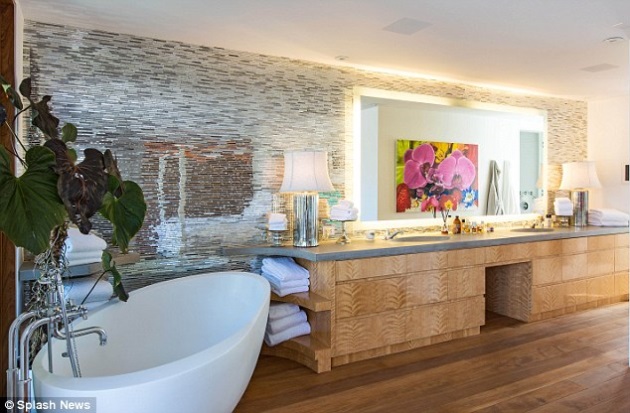 Phil Neville's Bathroom
When footballer Phil Neville put his flat on sale back in 2010, it was the most expensive apartment in Manchester – based in Beetham Tower with the iconic Hilton hotel. Along with three bedrooms, a gym, and study, this property also boats a contemporary bathroom with plenty of space.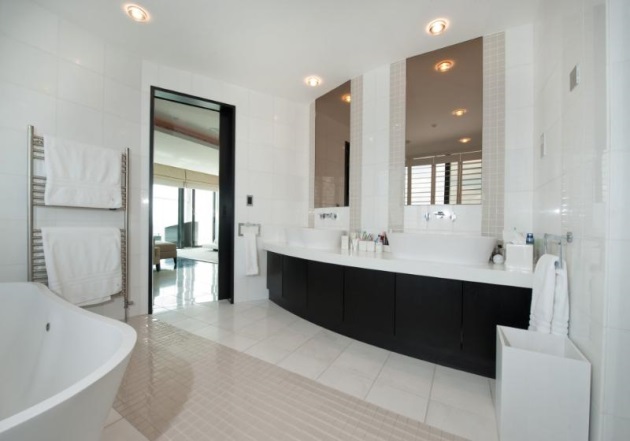 Ralph Lauren's Bathroom
There aren't many properties that can offer such breathtaking views, but in the bathroom of Ralph Lauren you get to look right out across Central Park in Manhattan. This sleek master bathroom is mirrored on both sides, and features plenty of storage options as well as all of the functionality you would expect.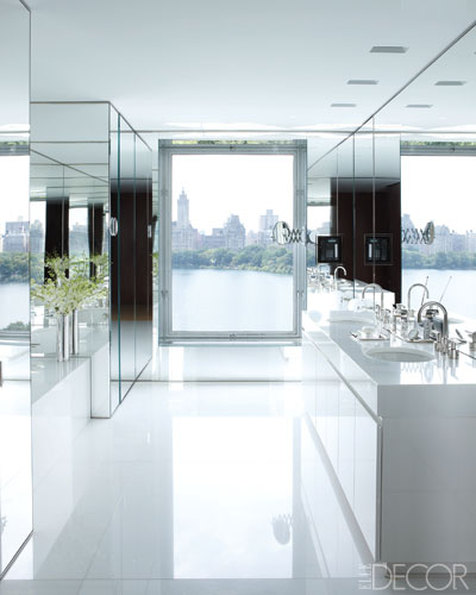 Sarah Jessica Parker's Bathroom
Sarah Jessica Parker and Matthew Broderick apparently spent nearly $19million on their New York townhouse back in 2011, then decided to sell up 18 months later. The bathroom shows off the modern style that you would expect, while also featuring some classic elements such as an open fire place.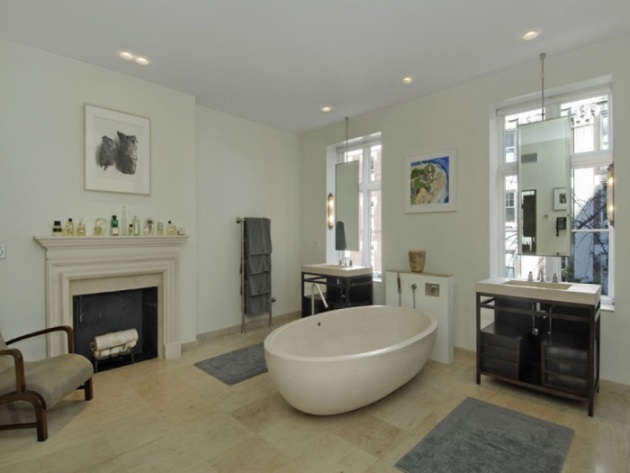 Robin Van Persie's Bathroom
Footballer Robin Van Persie is now part of Manchester United's title-winning side, but back in 2011 he was living in Hertfordshire where he owned a £1.4million five bedroom house. Robin Van Persie's bathroom was very minimalist back then, with the best featured undoubtedly being the large sloped basin.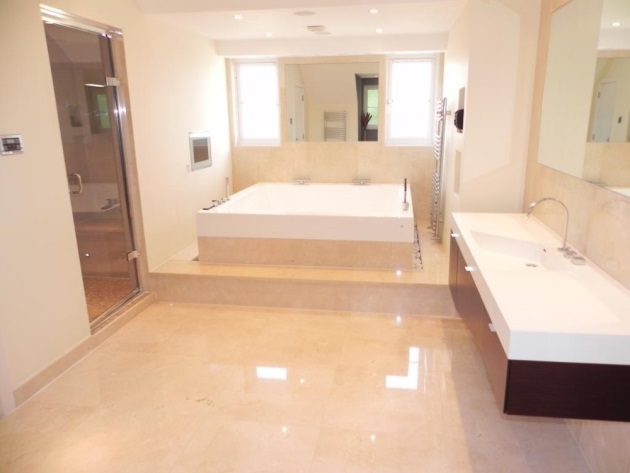 Taylor Swift's Bathroom
Taylor Swift's Beverly Hills home was purchased for nearly $4million in 2011, and features a beautifully traditional bathroom. Aside from the television, Taylor Swift's bathroom retains a classic look, with wall-hung storage and twin vanities. We particularly like the bathtub sitting at the end of this horizontal design.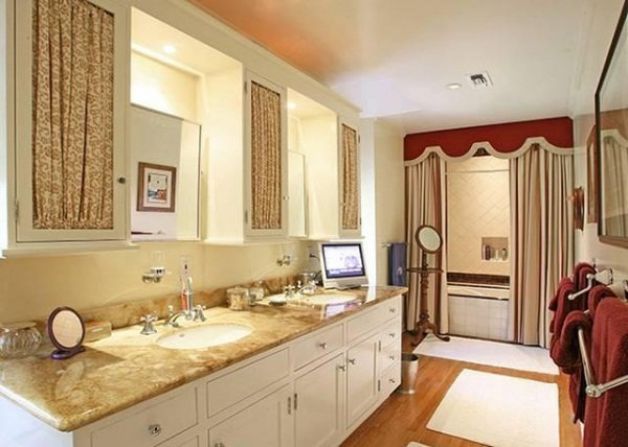 Will Smith's Bathroom
Will Smith and his family decided on a real touch of personality when designing their Californian home. The bathroom features a circular bathtub with mini fireplace which looks incredibly cosy, and suspended from the ceiling is a vintage Bruce Eicher chandelier from Dana John.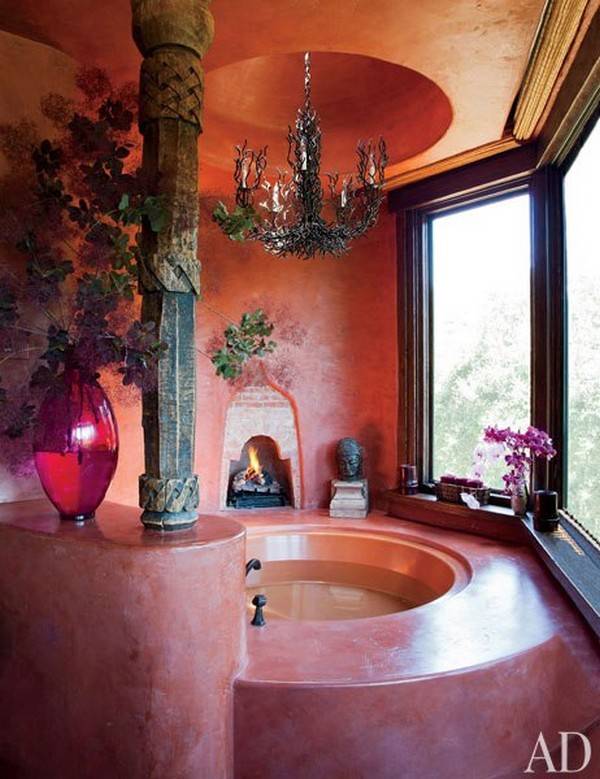 Will Ferrell's Bathroom
The penultimate celebrity bathroom in our list is that of Anchorman star Will Ferrell. This Manhattan home includes a highly contemporary bathroom with two showers inside a large glass enclosure, along with his-and-hers basins. Perfect for sharing.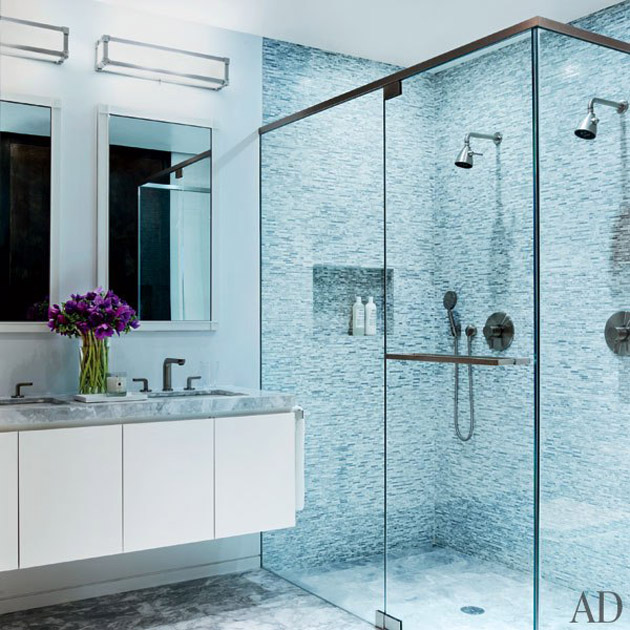 Yves Saint Laurent's Bathroom
Last, but by no means least, was the bathroom of famous French fashion designer Yves Saint Laurent. This Marrakech guesthouse featured not one but SIX bathrooms, each of which were individually designed by Bill Willis. This particular bathroom boasts Moroccan-themed tilework and a shower bath combo.