Freestanding Baths Buying Guide
Freestanding Baths Buying Guide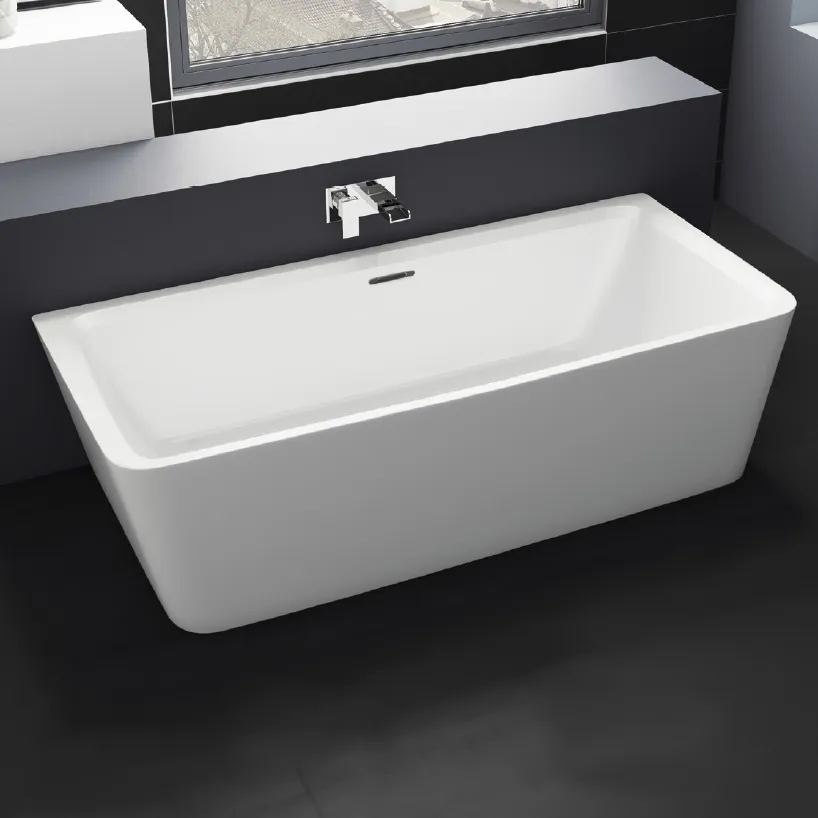 If you are searching for a freestanding bath, you need to ensure that you have done the proper amount of research on them before you settle for one. There are many different types of freestanding baths so you want to ensure that you are getting the one that is right for you. In this article, we are going to be taking a look at some of the things that you need to know about freestanding baths when you are looking to purchase one!
What Is A Freestanding Bath?
A freestanding bath is a bath that stands alone in your bathroom without being attached to a supportive structure. You may have seen a lot of bathrooms that have baths attached to the wall but with a freestanding tub, it can be the centerpiece of the bathroom. It sits directly on the floor or is mounted onto feet that lift it up a little.
The great thing about a freestanding bath is the fact that it can go anywhere in your bathroom so that it doesn't impact the design in a negative way. You get to choose where exactly it is placed, meaning that you get to decide how much space surrounds it on all sides as well.
This means that you can have whatever structure you want for your bath. You can decide what is going to be best for your family, whether this is narrow and shallow, or deep and wide. This is thanks to the fact that there are no restrictions of having to fit into a certain space for support.
Pros And Cons
Pros
There are a number of pros of having a freestanding bath. The first is that they add a unique and luxurious feel to your home. You often see freestanding baths in spas and hotels because they are a fantastic focal point for bathroom design. Your bathroom can feel like your very own spa with a freestanding tub.
As well as this, installing one of these is really easy and a really fast process. As it doesn't have to be connected to anything such as a wall, it's far simpler to sort.
Unlike baths that are fixed to a structure, freestanding baths can be moved around. This means that if at any point you decide that you want to start moving around your bathroom to try something a little different, it's not going to be an issue for you.
Cons
Due to the weight of the bath, you are likely going to need a reinforced floor. If you don't already have this, you are going to have to make sure that this is sorted before you can have a freestanding bath.
Freestanding baths are usually more expensive as they have a more luxurious design. Not only that, but like we just mentioned, you may have to redo your floor in order to accommodate one of these in your home. Add installation into this, and you are going to have a far higher cost than you would if you were to choose a built-in bath.
If you have got a lot of shampoo bottles, you're going to need to find somewhere near the bath to put them. This can be a cabinet near the bath or something else, but you're not going to have your trusty ledge that people with built in baths use.
What Are They Made From?
Freestanding baths can be made from a range of different materials. In the past, it was common for most of these to be made from copper and stone, but this has changed a lot in recent years. Copper and stone are now considered to be an extremely luxurious option when it comes to freestanding baths, and there are three new main contenders on the market. These are composite, steel and acrylic.
Acrylic tends to be the most common due to the affordable nature of the material and the fact that it is easy to maintain. If you want something that will offer you a wide range of design choices though, composite may be the best choice for you. With a range of colors and designs available, you get the benefit of a bath that you adore the look of without the exuberant price tag that comes with other materials.
How Much Do They Cost?
As with most other things, this is going to depend on the material it is made from, the design of the tub and the brand. The larger the brand name, generally the more expensive that the tub is going to be. As we mentioned above though, it's safe to assume that purchasing a freestanding tub is going to cost you more than it would to have a built in tub. You can compare the prices and then decide if this is going to be a big factor that impacts your decision.
Can You Put A Shower Over A Freestanding Bath?
It is possible to put a shower over a freestanding bath, but it will completely ruin the entire aesthetic of it. If you really want a shower over the bath, then you might be better off purchasing a built in bath. You can speak to a professional about adding a shower to your new freestanding bath and ask them about the logistics and design of it to get a better idea as to how this would work.
Are They Worth It?
Now that you have all the information that you need about freestanding baths, you can decide whether they are worth investing in. If you have decided that they are worth the money that you pay and you do want one for your bathroom, then make sure you have taken everything that we have said into this guide into account. Use the information above to choose the freestanding bath that you need for your bathroom.
If you need any help at all deciding what freestanding bath is best for your bathroom, we are here to help you, so you can get in touch with us when needed.