What Is The Benefit Of A P Shape Bath?
What Is The Benefit Of A P Shape Bath?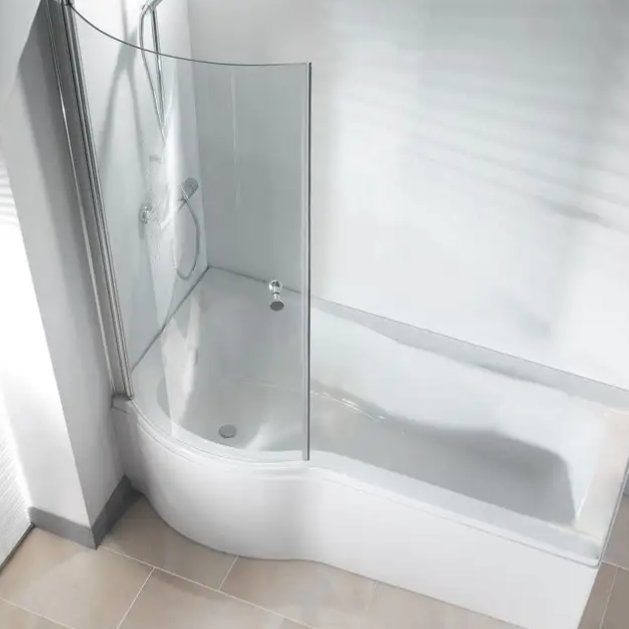 P shape bathtubs are quite clearly named after their shape; curved and round at one end with rounded corners. It can be seen that some of these bathtubs are more spacious on one side, in particular for those owners who want to install a shower installed above the tub in order to provide a more spacious showering experience.
As a result, This type of bath would be a great choice for owners who want the convenience of both a bath and a shower, but do not have the space for installation of two separate baths. As an alternative, the shower over bath combination is a great solution for combining the functionality of both units in a smaller space, making it an ideal choice for ensuite or guest bathrooms.
Why Have A P Shaped Bath?
If you want to experience a nicer showering experience without having to install a separate shower, P-shaped baths are the solution for you.
There aren't many people who have the privilege of living in an apartment with a huge bathroom suite. Nonetheless, that does not mean that it cannot look stylish. If you have a separate bath as well as a standalone bath, it might seem desirable, but it's obviously not practical and sometimes not even possible.
Here is where shape baths come in: the L-shaped one and the P-shaped one. This type of shower is a sleek, compact design that provides a larger area to shower in.
Those are the best choice for homeowners that are looking to have a spacious shower experience but do not have the capacity to install a standalone shower in their home. It is possible to design a bath that is shaped to save space whilst still allowing ample room for standing and showering in the middle. Here at BathShop321 want to show you how many benefits a P shaped bath can provide you below:
The Benefits of an L or P Shaped Bath?
Compact design

Extra space for showering

Easy to use for the whole family

No need for a full or fabric shower curtain

Free up floor space

Safety
Compact Design
A large bathroom and a spacious freestanding tub with a separate shower enclosure can easily be accommodated if you have a bathroom that is comfortable in size. Having a large bathroom to work with is a dream as there is so much additional space to work with that you can get the best of both worlds.
It can be quite problematic to install fixtures in small bathrooms because there is a limited amount of space. Some people decide that when it comes to small bathrooms, a luxurious shower room is the way to go. However, all of us have our preferences. Some people enjoy the option to take a bath, even if they plan on using the shower most of the time. The best compromise for such situations is often a shower bath, which is the most cost-effective option. The key to picking the right product for your lifestyle is to make sure that you choose to complement it.
Additional Space For Showering
Although a shower bath gives you the best of both worlds, as it provides the option to either have a bathtub or a shower, it might not be the ideal solution for people that like to soak in the bathtub on a regular basis. A separate bath can provide an inviting and luxurious bathing experience without being inhibited by the shower screen and the taps. It will give you the extra space you need for the ultimate bathing experience.
Suitable For The Whole Family
In case you have children at home, a bath is something of a necessity. If you have children, then a P shaped bath is the perfect solution, but it is also the ideal way to enjoy a relaxing and luxurious bath time.
There are times when a separate shower enclosure is the best solution for meeting the needs of everyone in your household who has access to the bathroom. It is a great way to enjoy a quick shower whenever it is convenient for you and also to allow your kids to bathe in a spacious bathtub.
It may not be possible for this to be possible due to space issues. An ideal alternative to a tub is a shower bath, which provides a spacious area for adults to take a bath while serving as an enclosure for kids to rinse themselves. Moreover, you will be able to enjoy a peaceful soak every time you feel like taking a nice long bath in the tub.
There Is No Need For A Full Shower Curtain
Don't want your bathroom to have a messy, slimy, or odiferous fabric shower curtain? We have the perfect solution for you. There are different kinds of P shaped baths, each of which comes with a glass shower screen that can easily be cleaned and is kept out of the way in your bathroom. Thankfully, those days are long gone when you have to step out of a bathtub and step onto a slippery, hazardous bathroom floor because the fabric shower curtain was left outside of the bathroom.
Free Up Floor Space
If you are looking for a way to save space in your bathroom without having to purchase a separate shower cubicle, a P shaped bathtub will grant you the same benefit of saving space at the same time.
A combination of both bath and shower can work perfectly in a small or a large bathroom, but, obviously, it would be most beneficial to homes without enough space for both.
Added Safety
You will understand that the danger of having a shower in a regular bath with a curved bowl is well known if you have ever tried taking a shower in one of them. There are some aspects of these products that make them extremely slippery and dangerous, especially if you have children using them. When you use a P-shaped bathtub, you will be able to stand on a flat area and enjoy a shower without worrying about slipping or stepping on something.
If you are now ready to install a P shaped bathtub in your home why not have a look at what the Bathshop321 has to offer?