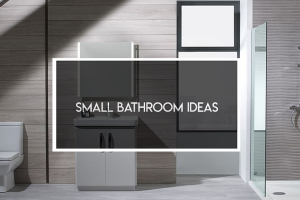 When it comes to re-designing a bathroom space, many of us look online. However, can you recreate these looks in your home? Perfectly tiled walls, an array of bathroom furniture and appliances; sounds perfect. However, not all of the designs can be replicated in smaller spaces. This article aims to show you a variety of small bathroom design ideas that are both practical and stylish.
Cloakroom Suites
Incorporating a cloakroom suite into your home keeps your family bathroom separate from guests and is beneficial for those who are less able to use the stairs. It is also a great way to add value to your home without having to spend too much money. Usually, cloakrooms as a downstairs conversion so chances are it is one of the smallest rooms in your house.
Our Recommendations
You won't be able to fit a regular suite into a cloakroom bathroom. However, from wall mounted toilets to corner basins, there is a range of space-saving fittings that will help you to make your bathroom look bigger than what it really is. Take a peak at our Voda Design range to uncover a variety of products designed for smaller bathrooms. Voda Design can help you design a bathroom that looks good for years to come.
Our P2 combination toilet and sink offers a streamlined look comes with many useful fixtures such as a pan, fittings, taps and a toilet suite.
Where space is tight you're going to need as much storage space as you can get. Storage furniture starting at just 450MM is a great choice. We stock multifunctional fittings such as our vanity basin units. Additionally, freeing up floor space with our wall mounted bathroom fixtures is an excellent way to create the illusion of space. Our Nano collection has a great selection of short projection bathroom fixtures at budget-friendly prices.
Lighting
It is likely that your cloakroom bathroom doesn't have a window which is why lighting is essential. One light may be enough for a small cloakroom, although this can leave the space looking one dimensional. In small bathrooms, vanity lighting is often skipped as there is usually limited space surrounding the mirror. This usually means that the mirror is lit by the ceiling light which can lead to unwanted shadows. To create effective task lighting, choose an illuminated mirror so you do not have to worry about finding wall space to install separate lighting. We stock an array of LED mirrors as well as back lit mirrors.
Alternatively, a bathroom ceiling light that is mounted flush against the ceiling can be a good option. With a minimalist look and frosted glass, this type of light is versatile enough to blend seamlessly with most bathroom décors. When illuminated the diffuser will allow for the even distribution of light throughout the cloakroom. Flush lights offer a compact form which contributes towards making a small space feeling much more open.
Mirrors
There is no better friend to a small space than a well-placed mirror to capture light and project it to darker areas of the room. When choosing a bathroom mirror, you will generally need to take surrounding fixtures, the height of the users and wall space. Typically, the mirror should not be wider than the sink or vanity. The height of your ceiling will determine how far up the mirror will hang above your basin unit.
Contemporary chrome radiators are also another fixture that will enable light to bounce around your bathroom as well as keeping your bathroom cosy and warm. We supply an extensive range of 300MM chrome radiators that are compact enough to fit into cloakroom bathrooms.
En-Suite Bathrooms
Unless you're lucky, most people's en suite is on the smaller side. This is not necessarily a bad thing it just means you will have to carefully plan and manage your space well for a spacious atmosphere. Typically, there won't be enough room to install a shower and a bath separately. There are numerous products available which cater to smaller spaces, such as P or L shaped shower baths and corner baths. These are all practical choice for smaller spaces but we recommend looking into shower enclosures.
There are numerous benefits to be gained from the installation of a shower enclosure. Firstly, they don't take up too much room, which is the first thing you want if you're trying to optimise your available space. Secondly, there are so many types of shower enclosure to suit all design preferences. They also allow you to choose from a variety of showers including mixer showers and power showers as most enclosures are very accommodating.
We recommend looking at our quadrant shower enclosures. Quadrant shower enclosures offer a space saving design as the front of the shower is curved, it doesn't protrude into the room like some other enclosure types. An example of a space-saving quadrant shower can be found in our stunning Argon quadrant shower suite which occupies the corner profile of a suite. Despite saving space, quadrant enclosures still give you the side to side moving room which is needed for a comfortable showering experience. Quadrant showers also come in offset models which save you even more space.
With many cubicle sizes on offer, our Harmony Shower enclosure suite can be installed in the tightest bathroom spaces. The shower cubicle featured in this suite are equipped with pop out doors for easy cleaning.
Wetrooms
Just saying the word "wet room" inspires thoughts of spa settings and luxury. Wet rooms walls are fully tiled, although panels can be added to walls and ceilings too. By tiling your space effectively, you can visually enlarge the space. We recommend using large tiles or panels for an open feel. With a wet room, there is no need for shower doors which may infringe on whatever space you have. Wet rooms simply feature a glass panel available in a multitude of sizes. These can be installed directly onto the tiles as long as you have a wet room kit. You can also install a low-profile shower tray which is a more affordable option.
If a wet room sounds like your kind of bathroom we suggest our Waterfall wet room suite. This wet room suite features everything you will need to create a striking look in compact spaces. The enclosure included in this package comes in a variety of sizes.
Family Bathrooms
Baths are a focal point in most bathrooms. Generally, those with small bathrooms tend to worry that a bath may not fit in the space they have to work with. However, our baths start at just 1200MM in length to fit a wide variety of spaces. Our freestanding baths start at 1555MM in length. Shower baths are a great solution for small and large bathrooms as they are flexible and space-saving whilst offering a contemporary appeal. There are many different styles to choose from, however, L shaped shower baths and P shaped shower baths are most common.
The Tidy bathroom suite features an L shaped shower bath, toilet, and pedestal basin. This suite has proven to be very popular as it combines everything you will need in a bathroom at a great price. The attractive L shaped shower bath is produced here in the UK and is manufactured to the highest standards. The Synergy Regent configurable bathroom suite is another great option for small family bathrooms. This package offers a space friendly P shaped bath alongside a toilet and basin made from high quality vitreous china promising longevity in the busiest of households.
We hope this guide has shown you that a striking look can be achieved in a small bathroom too! For more bathroom related advice, be sure to follow our blog updates.