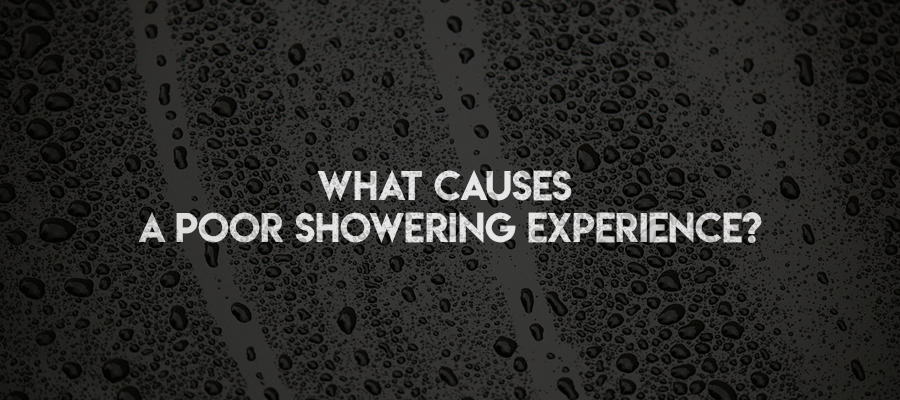 In our blog section, we usually talk about bathroom products in the best light. Showers are a bathroom essential in most homes, whether it is a shower bath, wet room or shower enclosure is installed. Having said that, not all showers are made to a high standard. There is a big difference between a run of the mill and an exceptional shower. You may find that your showering experience is lacking and in today's article, we will be summarising some of the reasons for this.
Drainage Dilemmas
Shower typically use less water than baths but require constant draining. If you have drainage issues then this could result in a large pool of water that can possibly cause accidents.
Over a period of time, slow draining water promotes the development of mould and bacteria. Make sure that your drain is clear as in most cases if water isn't draining properly it is due to a simple blockage. If your shower waste is damaged, we recommend investing in a new shower tray waste.
Poor Ventilation
If your bathroom has poor ventilation, a whole host of problems can be caused including damp and its surrounding problems. Poor ventilation is a particular problem for bathrooms with no windows. If your bathroom has no windows then it is important that you have a bathroom extractor fan switch on as you're showering. Here at Bathshop321, we supply a range of bathroom extractor fans in a variety of colours so you can find an option that is compatible with your bathroom design.
Leaks
Depending on the person, using a shower can save water and save you money. However, a shower leak can undo all of these benefits in a matter of seconds. A leak could be caused by the piping pushing pressurised water to the head or shower head, a faulty product, etc. A leak can worsen the longer it is left and the effort needed to prevent this is frustrating, to say the least.
If you have a leak in your bathroom the first thing you will want to do is try to locate the leak. If you cannot locate the source of the leak on your own, we recommend seeking help from the professionals. A is a leaky shower head is a common leak source. If you find that your shower head is beyond repair, we suggest investing in a new one!
Poor Quality Shower Head
Leading to our next point, if your shower head is old, clogged or corroded then a new one is worth considering. By simply changing your shower head you will be able to experience the difference in terms of performance. A shower head is easy to replace, they can be screwed into the original shower arm with ease (in most cases). Be sure that you install your shower head correctly, as one that is not fixed properly can actually cause leaks.
There are a variety of shower head designs that you can choose from:
Fixed shower head:
This is one of the most common shower head types. It comes straight out of the wall and points down at a fixed angle. This type of showerhead offers a variety of spray patterns and flow strength so that you can customise your shower to suit your preferences.
Wall arm shower head:
This shower head is also fixed to the wall. However, it extends out further with an arm. This often features a large shower head that points down. Ideal for contemporary spaces.
Ceiling arm shower head:
As the name implies, the ceiling shower arm is attached to the ceiling and offers a luxurious look in any bathroom. This type of shower head is the preferred type for those looking for a large shower enclosure or a wet room space.
When selecting replacement fixtures, keep the following in mind:
• How powerful do I want my shower to be?
• Does it match my existing shower?
• What style do I want?
• Do you want a head with different settings (massage, jet, mist)?
• What is my budget?
All of this information can be found on all of our product pages.
Low Water Pressure
Most modern buildings should have a water pressure more than adequate for any shower style that suits your personal preferences.
If you're experiencing low water pressure then buying a new shower pump is worth considering. A shower pump will improve the flow of water to the shower head, creating a better showering experience. For more information on shower pumps view our shower pump guide.
We hope this guide has given you some ideas as to why your showering experience may not be up to par. For all things bathroom related, be sure to keep reading our blog!