We know how tricky it can be to come up with a firm idea of what you want your new bathroom to look like. It's easy to get stuck in a rut if you've had the same style in your bathroom for years, so sometimes you need the perspective of someone new to get your creative juices flowing. That's where we come in! To help you out, we decided to challenge ourselves to think of twenty six new ideas for bathroom designs; one for each of the letter of the alphabet. Safe to say, it proved a lot more difficult than we first thought…
Art
Bathrooms don't always have to have to be clad with white tiles – make your white bathroom furniture look a little more interesting and homely with a framed print or figurine that grabs your attention. Even a rubber duck will do!
Buy British
We stock a fantastic range of British-designed and manufactured products that truly celebrate our vast culture and heritage. We recommend trying out Just-Trays, the UK's number one shower tray manufacturer, whose trays are a work of art. They produce a slate effect tray with a soft touch surface! Click here to see their range (available at a discounted price at bathshop321.com) and make sure to look out for the logo below on the rest of our products online which tells you if it that product was produced right here in Britain.

Candles
Let's face it, the bathroom isn't exactly the freshest smelling room in our home. Keep yours smelling amazing by using air fresheners or lighting lovely scented candles when you next have a relaxing bath.
Discount Codes
Bathshop321.com always has low prices, but you can save even more money using our discount codes! Sign up to our email newsletter and receive a 5% off code and make sure to keep an eye out for all the latest offers on our homepage, including up to 67% off full bathroom suites.
Elegance
Try out the Provence range for a bathroom full of French elegance. The furniture range includes a vanity unit (in black or white) and a tall unit. If you like this style, we also recommend the Sorea Toilet and the Bronte Radiator, both of which pair nicely with this set.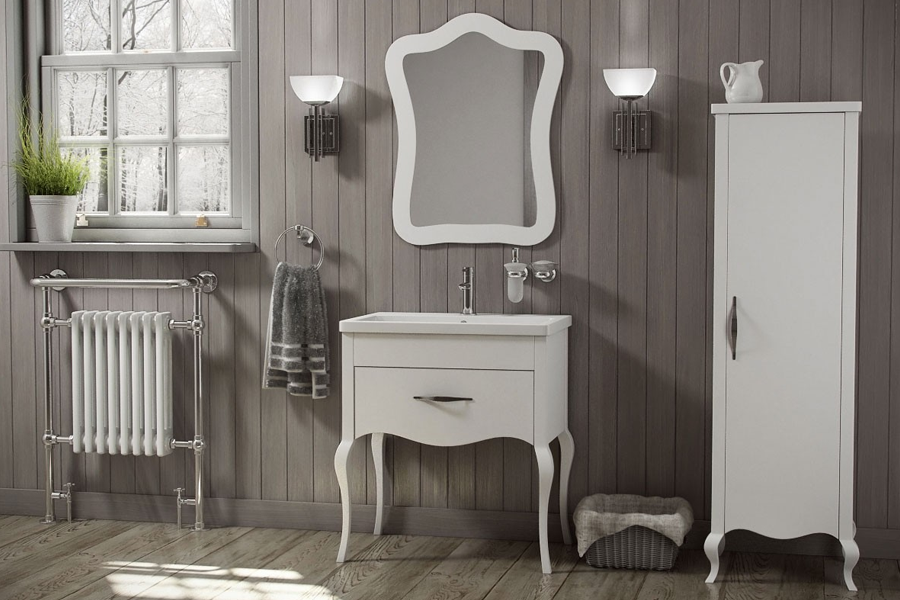 Fabulous Furniture
As well as the Provence furniture, Bathshop321 stocks a huge range of other furniture options. From wall hung basin units to floorstanding vanity units, we've got you covered. One of our favourites in stock right now is the Recess Basin and Cabinet, which features an eye-catching open shelf underneath the basin to store your small toiletries. The dark oak finish is perfect for autumn!
Geometric
Geometric tiling is very in vogue this year; create amazing bathroom designs from your own imagination or get inspiration from others!
His and Her's
Invest in matching his and her's basin's and enjoy the domestic bliss as you and your partner get ready together without jostling for mirror space. This beautiful, grey vanity unit from Hudson Reed is one of our favourites right now – in stock at bathshop321.com with 37% off!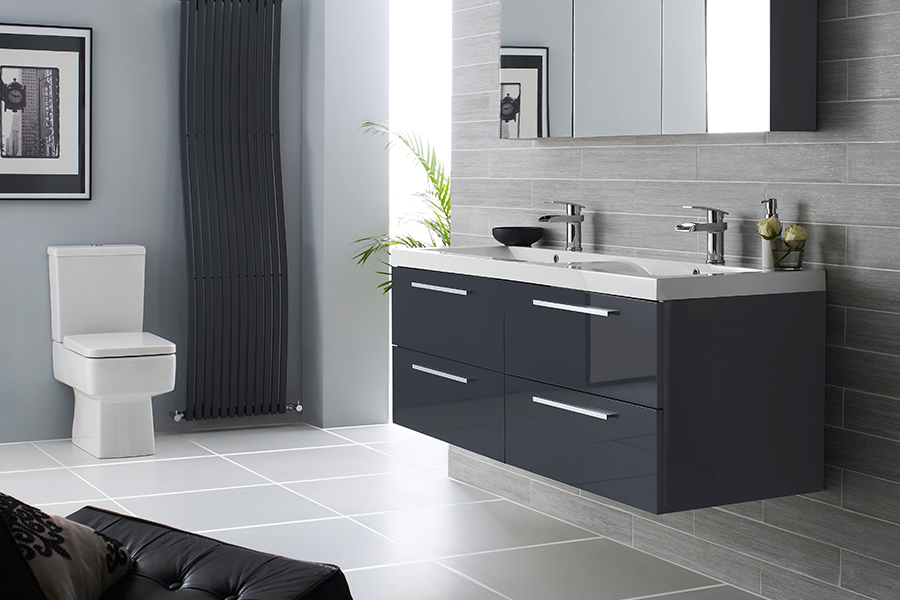 Illusion Of Space
Making the most of a small living space is all about trickery. Create an illusion of space by opting for wall hung furniture instead of chunky floorstanding units in order to free up more floor space. We also stock a range of short projection toilets and other ceramics that can give you more room to work with.
Jewellery Stand
Don't leave your jewels laying around and risk them getting washed down the plughole – invest in a nice jewellery stand to place on a windowsill or basin top and hang your necklaces, earrings and bracelets up safely while you wash.
Keep Towels Toasty
There's nothing better than a fresh, clean, warm fluffy towel in the winter months and you can achieve that effect with heated towel rails. Read our guide to bathroom heating to find the perfect model for you.
Laundry Hamper
Fed up of seeing piles of discarded clothing from your children in your bathroom? Place a small laundry basket or hamper in the corner of your bathroom and make it look a whole lot tidier.
SaveLoafLoaf's brightly coloured and woven Disco laundry basket in this whitewashed bathroom822Creative WedgeBathroom
Mirror Mirror, On The Wall…
A large bathroom mirror will make small spaces seem bigger, as the reflections create the illusion of space. It also gives you an excuse to spend more time looking into it!
Nail Bar
One for the girls… Clear an area of your basin top or top of a low furniture unit and set up your own small nail bar area! Create the perfect space to use to get ready for a big night out or special occasion. Guys, you can do the same; how about a specialised shaving station?
Overindulge In Luxurious Fabrics
Create a bathroom haven with ultra soft towels and bathmats for a decadent feel. Hang your towels on modern or traditional towel rails.
Pay Homage To Your Favourite Decade
Love the 60's? Add a splash of flower power to your walls with a framed print. Prefer the 80's? Then plump for some neon towels! Make sure not to overdo these classic styles though, as it can so easily look cheap and tacky.
Quirky Ornaments
Add a dash of quirkiness to your bathroom with an eye-catching ornament. We love the clever design of the soap dish below and there are plenty more cool bathroom designs where that came from! Make sure to take a look at our Quirky, Innovative Bathroom Ideas board on Pinterest for more inspiration.
Radio
Bathrooms are a great place to listen to your favourite music uninterrupted. What's better than belting out an absolute tune in the shower? Get your shampoo bottle/microphone at the ready! We stock a selection of bathroom radios that can be integrated into your ceiling from just £89.
Shelves
When you think of bathroom storage solutions, most people think of cabinets and vanity units. However these units are often bulky and can take up a lot of extra room in your bathroom, especially if it is a small room. By mounting a small shelf on the wall to keep your basic toiletries on, you will save vital floor space and keep your essentials within easy reach.
Traditional Style
We love traditional items and bathroom furniture that exude class and elegance. You can achieve the look of a traditional bathroom suite with items such as claw-foot bathtubs, traditional radiators and classically styled furniture. For example, the Bronte Unit, which comes in 3 different colours can match perfectly to your existing design. We find that traditional designs fit wonderfully in period properties and cottages for that homely, timeless feel.
Upcycle Existing Furniture
Who says you have to fork out a fortune to give your bathroom a fresh new look? Just like the ingenious solution pictured below, you can use existing furniture that you no longer use to create a brand new purpose for it! In today's climate of coming up with environmentally-friendly solutions, get your imagination running wild to design your own eco-bathroom.
Vanity Unit Combos
Furniture Runs that feature a combo of a vanity unit and toilet are great for saving vital space in smaller bathrooms, such as cloakrooms or en-suites. You can get one for as little as £220! Click here to browse our selection.
Whirlpool!
Did you know that at Bathshop321 you can add jet systems to some models of bath for an additional cost? Recreate the feel of a spa in your own home with either a 6, 8 or 12 jet system where you can truly relax and unwind. We offer British-made whirlpool baths separately or as part of a suite at amazingly low prices.
Xenial Atmosphere
We struggled with this one! Xenial refers to the hospitality between a host and guest, so make sure that you create a xenial atmosphere by having a spare set of towels and toiletries on hand for any unexpected visitors!
Your Personal Style Is Important
In order to make a home seem, well homely, you need to stamp your own style all over it. The bathroom is no different! Whatever your personality or style preference is, make sure it is reflected in your bathroom designs, otherwise you may end up with all the bland charm of a public bathroom…
Zzzzzzzzzzzzzzz…. (OK we've given up)
We are clutching at straws for this last idea, but here it goes… How about making your bath extra comfy by adding a DIY headrest to it? We obviously don't advise sleeping in the bath for safety reasons, however if you've had a long, hard day at work, what would be comfier to lean back on: a soft, folded up towel or hard,cold acrylic? It's no contest!
Enjoyed the photos in this post? Then you'll love our Pinterest boards, featuring these and so much more to spark your imagination and help with coming up with new bathroom designs for your home. Click here to explore our boards.